Scouting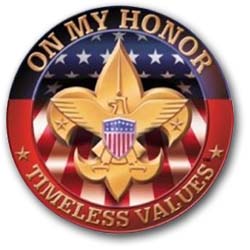 Both of my boys love Scouting, and I love Scouting with them. Scouting has been a big part of my life since I was a boy and I wanted to make sure that my boys had a similar experience. Although Tiger Cubs didn't exist, I was a Cub Scout when I was little, got the Arrow of Light, went on to Boy Scouts, and became an Eagle Scout. I am hoping that my boys want to go that far, but I don't want to pressure them into it. Its all about having fun, learning and growing.
When I signed the boys up I also signed up as a parent volunteer, not knowing that I would eventually be running the Pack. As it turns out, I have done everything from lowly Den Leader to Cubmaster, then when the boys moved up to Boy Scouts, I signed up to be one of the Assistant Scoutmasters. I want to make sure that my boys enjoy the program, and I can do that by helping out where I can.
Here are some Scouting links that I have found useful.
National BSA WebSite
Scouting Forms
The NetWoods Virtual Campsite
Pinewood Derby and Space Derby Hints
Scoutstuff.org - OnLine Scout Shop
Boys Life OnLine
Scouting Magazine
Scout-O-Rama